MBChB, DDS, MSc, PhD in Dermatology (UK)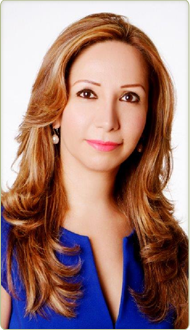 Cosmetic Dermatologist, Dubai
A licensed dermatologist both in the UK and in Dubai.
Dr. Fadli has over 15 years experience in dermatology. In 1996 she obtained her Diploma in dermatology from University of Wales College of Medicine, Cardiff, United Kingdom. In 1997, she was awarded a Masters degree in dermatological sciences from the same University. In 2003, Dr Fadli completed her PhD in dermatology from the same University.

She has gained her clinical experience at University Hospital of Wales, Cardiff and Royal Gwent Hospital, South Wales, United Kingdom.

She is also specialized in cosmetic dermatology (Botox, dermal fillers, chemical peels, laser hair removal and other cosmetic procedures). She has been trained in private practices in Cardiff, Harley street, London and Berlin.

Dr Fadli comes from a medical family. Her father is a renowned Psychiatrist, her mother a Gynecologist both with clinics in Dubai. Her brother is also a Psychiatrist and her sister is currently in final year medical college.
Dr Hala Fadli is:
Fully registered with the British General Medical Council
Member of the British Association of Dermatologists
Member of the British Association of Cosmetic Doctors
Member of the European Society for Cosmetic and Aesthetic Dermatology
Member of the International Academy of Cosmetic Dermatology
To book an appointment with Dr Fadli, please contact our clinic on:
+ 971 4 346 5542